Tono Dolce is a community chorus for Southeastern Connecticut, established in 2012. Our focus is to bring the joy of music to our friends and neighbors in the community.
We are open to anyone (who is at least a junior in high school) following a simple audition. We rehearse Monday evenings, and perform at least twice yearly, once in the spring and once in the fall.

If you are interested in joining, or contributing to Tono Dolce, please contact us at tonodolce@gmail.com. Tono Dolce is a 501(c)3 non-profit organization.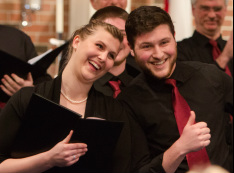 Upcoming Events: Open Rehearsal - FALL 2015 SEASONMonday, August 24th, 7-9pm at St. Luke Lutheran Church in Gales Ferry (in the sanctuary) - 1830 Rt. 12, Gales Ferry CT 06335
Tono Dolce will be holding an open rehearsal at the start of our fall season. This is a great opportunity for local community members (High School Juniors and older) to join us for an evening of singing and see what we are all about! If you'd like to consider being a future member, no need to prepare a song as you will be singing alongside the members of Tono Dolce in a relaxed atmosphere.
Interested in becoming a sponsor, or advertising in our concert program? Download the forms found below, fill out and either give to a Tono Dolce member, or mail in to PO Box 133, Ledyard CT 06339.
2015 Sponsorship Form
2015 Advertisement Request
---