Tono Dolce is a community chorus for Southeastern Connecticut, established in 2012. Our focus is to bring the joy of music to our friends and neighbors in the community.
We are open to anyone (who is at least a junior in high school) following a simple audition. We rehearse Monday evenings, and perform at least twice yearly, once in the spring and once in the fall.

If you are interested in joining, or contributing to Tono Dolce, please contact us at tonodolce@gmail.com. Tono Dolce is a 501(c)3 non-profit organization.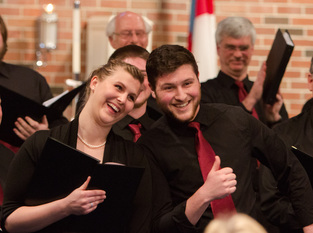 Upcoming Events:

Open Rehearsal!

Monday, January 11th from 7pm to 9pm at St. Luke Lutheran Church, Gales Ferry CT
(1830 CT-12, Gales Ferry, CT 06335)

Join the current members of Tono Dolce for a night and see what we're about! This is an informal, relaxed "audition" for new members, without the stress of an actual audition. We will NOT put you on the spot! Just come sing for the night. Afterwards, if you want to be considered to join the group, just let us know. If not, that's okay!

No appointment/reservation needed - just show up with a voice and an open mind, and we'll all have fun.

If you have any questions, feel free to call us at 860-631-SING (7464), or email us at tonodolce@gmail.com



---