Tono Dolce is a community chorus for Southeastern Connecticut, established in 2012. Our focus is to bring the joy of music to our friends and neighbors in the community.
We are open to anyone (who is at least a junior in high school) following a simple audition. We rehearse Monday evenings, and perform at least twice yearly, once in the spring and once in the fall.

If you are interested in joining, or contributing to Tono Dolce, please contact us at tonodolce@gmail.com. Tono Dolce is a 501(c)3 non-profit organization.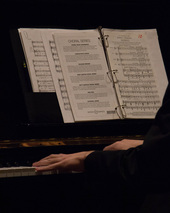 Upcoming Events:
Fall 2014 Season
: We are currently holding open auditions for the current season. If you are interested in joining Tono Dolce, please come to our next rehearsal - Monday, September 1st (Labor Day) at 7pm, in the sanctuary of St. Luke Lutheran Church in Gales Ferry (1830 Route 12, Gales Ferry, CT). If you cannot make this rehearsal, but would like to request a private audition, please email us at
tonodolce@gmail.com
.
Fall 2014 Concerts: New this season! We will be offering two concerts in two different locations, on Saturday November 22nd and Sunday November 23rd. Exact locations and times to be announced. Check back here for details, but mark your calendars now!
Be sure to Follow us on Facebook to get event notifications!
---