Tono Dolce is a community chorus for Southeastern Connecticut, established in 2012. Our focus is to bring the joy of music to our friends and neighbors in the community.
We are open to anyone (who is at least a junior in high school) following a simple audition. We rehearse Monday evenings, and perform at least twice yearly, once in the spring and once in the fall.

If you are interested in joining, or contributing to Tono Dolce, please contact us at tonodolce@gmail.com. Tono Dolce is a 501(c)3 non-profit organization.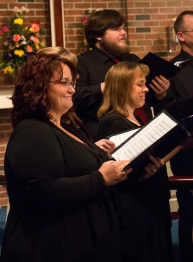 Upcoming Events: Spring 2015 Open Rehearsal *POSTPONED - AGAIN - DEJA VU!*:
Poor road conditions due to winter storm Linus have led us to postpone this rehearsal for a second week in a row - we are currently scheduled for Monday, February 9nd, from 7-9pm at St. Luke Lutheran Church in Gales Ferry.
Please stay safe in this storm, and we'll see you next week!
This is our first rehearsal of the spring season, but it is open to anyone who is interested in joining our group. Come sing with us for a night, see what rehearsals are like, and we'll get a sense of the new sound for the new season! We aim for low stress!
We have a particular need for lower voices (tenor & bass), but all voice parts are welcome!
Be sure to Follow us on Facebook to get event notifications!
---