Tono Dolce is a community chorus for Southeastern Connecticut, established in 2012. Our focus is to bring the joy of music to our friends and neighbors in the community.
We are open to anyone (who is at least a junior in high school) following a simple audition. We rehearse Monday evenings, and perform at least twice yearly, once in the spring and once in the fall.

If you are interested in joining, or contributing to Tono Dolce, please contact us at tonodolce@gmail.com. Tono Dolce is a 501(c)3 non-profit organization.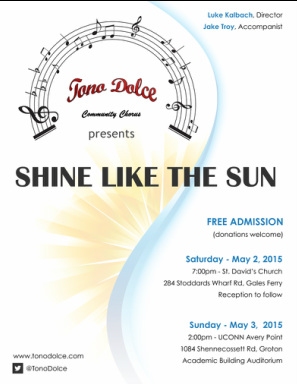 Upcoming Events: Spring 2015 Concert Series: "Shine Like The Sun"
Saturday, May 2nd at 7:00pm - St. David's Church in Gales Ferry, CT
(284 Stoddards Wharf Rd)
Reception to follow
Sunday, May 3rd at 2pm - UCONN Avery Point in Groton, CT
(1084 Shennecossett Rd - Academic Building Auditorium)
As always, admission is FREE! Donations graciously accepted at the door.
Interested in becoming a sponsor, or advertising in our concert program? Download the forms found below, fill out and either give to a Tono Dolce member, or mail in to PO Box 133, Ledyard CT 06339.
2015 Sponsorship Form
2015 Advertisement Request
---