Tono Dolce is a community chorus for Southeastern Connecticut, established in 2012. Our focus is to bring the joy of music to our friends and neighbors in the community.
We are open to anyone (who is at least a junior in high school) following a simple audition. We rehearse Monday evenings, and perform at least twice yearly, once in the spring and once in the fall.

If you are interested in joining, or contributing to Tono Dolce, please contact us at tonodolce@gmail.com. Tono Dolce is a 501(c)3 non-profit organization.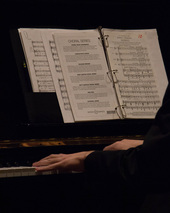 Upcoming Events: Fall 2014 Concert: "Songs of the Sea"
7pm on Sunday, November 23rd at St. David's Episcopal Church in Gales Ferry - 284 Stoddard's Wharf Rd (Rt. 214, at the corner of Rt. 214 and Rt. 12). This concert is FREE to the public, although we greatly appreciate free-will donations. There will be a short reception following the concert.
Be sure to Follow us on Facebook to get event notifications!
---